Forex Trading Tax in the UK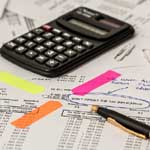 Do you have to pay taxes on Forex trading in the UK? Yes and no. We'll break it down for you here.
Trading Forex can be a very profitable venture. There are many full-time traders in the UK who use it to make a respectable living. If you're inspiring to be a professional, or just want to be a part-time 'retail' trader, you probably want to know how you will be taxed.
Simply put,
when trading Forex and making profits from the trade then the government requires you to pay taxes
. This means that if you are trading on behalf of people or using other people's money, and then the trading tax applies. However, there is also spread betting where tax is not charged. The spread betting is offered by companies as demos or just regular spread betting accounts.
It is the duty of the state to make sure that as much as Forex trading is gambling, its citizens do not suffer. It tries to make it look less as a gambling tactic and as such it is able to gain through taxing of income got from the Forex trading. This is possible through establishment of laws and governing bodies. Citizens, Forex companies and the government hence benefit.
You Might Also Like:
Is Forex Trading Legal in UK?
Forex Regulation UK